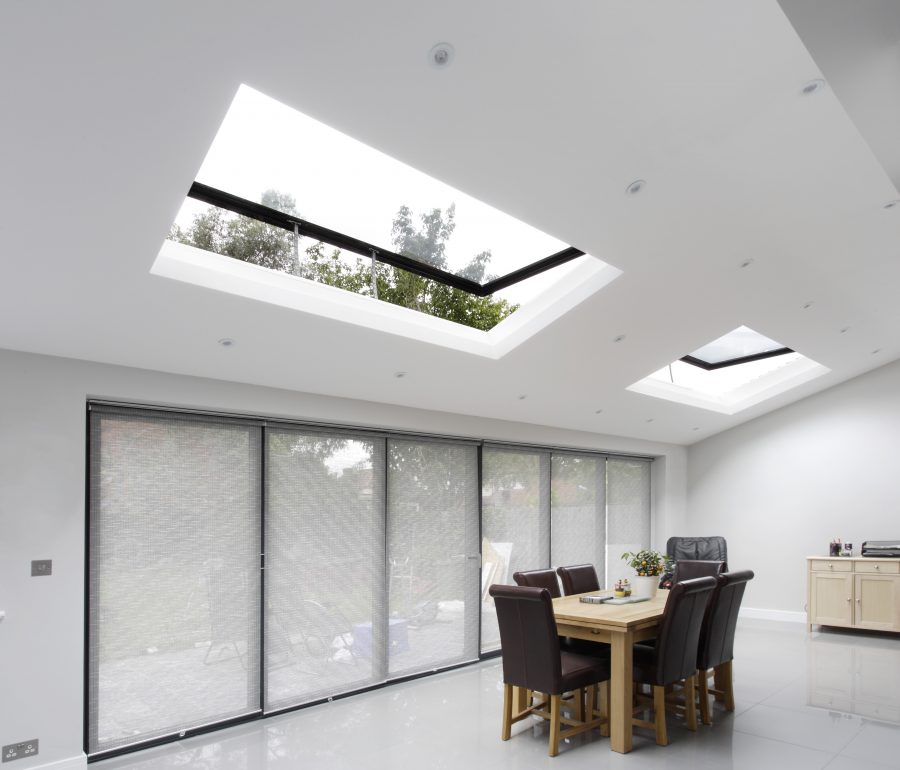 Size Matters When It Comes To Rooflights
The benefits of rooflights in your house are numerous. From improving the air quality in your home to helping beat the winter blues, adding a rooflight is an easy (and often cost effective) way to allow more natural light and fresh air to flood your property.
Whilst there are lots of different pitched rooflights available, what can you do if you want something more bespoke and/or a little (or even a lot) bigger than most?
Introducing… the LuxliteTM pitched rooflight.
Here's the lowdown on the Roof Maker product that won the 'Best Application of Rooflights' category at the Pitched Roofing Awards 2018.
1. Seriously large custom sizes
Sometimes, there are situations where several small rooflights in a row just won't cut it. Or perhaps your roof requires a rooflight of a specific size to allow for rafters. Whatever you need, because we handcraft our pitched rooflights to order, we can supply you with a perfect fit.
The LuxliteTM is also available in much larger sizes than many other pitched rooflights, available in dimensions of up to 2400mm x 1200mm or 3000mm x 1000mm.
Larger rooflights afford three main benefits for home owners:
More natural light
Better ventilation
Gorgeous aesthetics
Likewise, if you need a bespoke, non-standard size pitched rooflight that isn't necessarily large, we can accommodate that too.
2.      Frameless design
Another thing you should know about the LuxliteTM pitched rooflight is that it features a unique frameless design. With no chunky visible internal frame when fitted, it allows up to 49% more natural light to enter your home compared to traditional rooflights.
Furthermore, our Luxlite's frameless design means it is a lot cleaner and minimal looking than many of its counterparts on the market, which makes it a particularly good choice when aesthetics are a top priority.
3. Triple glazed as standard
The LuxliteTM comes fitted with high specification triple glazing as standard. Offering ultra low Ug-values from 0.6 W/m2k, which is particularly important during colder weather when your home needs to be as insulated as possible.
In fact, such glazing provides exceptional energy efficiency all year round, helping to keep your home cooler during the warmer summer months too. We also offer a double glazed option too.
4. Comes with a built-in flashing apron
All our rooflights are designed to be as easy to install as possible. It's something we've worked very hard to achieve because we know how important it is for our customers.
For example, our LuxliteTM comes with a free built-in flashing apron. This flashing apron not only enables easy installation*, but also provides superior water dispersion. Blending in among your roof slates or tiles, our LuxliteTM flashing apron enhances the minimalist design cues of the overall rooflight.
*They can be installed by a professional builder, roofer or carpenter with minimum effort.
5. Electric opening option available
Many of our customers ask whether our LuxliteTM comes in an opening version. The answer is yes, providing you opt for triple glazed glass.
The electric opening LuxliteTM  provides you with the ability to open your roof windows to allow ventilation all year round.
If the thought of having to manually open your pitched rooflight each time doesn't fill you with glee, don't worry. The LuxliteTM is controlled electrically by a rocker switch fitted to your wall, or you can upgrade to a remote control. The latter option comes with a free rain sensor which will automatically close your rooflight at the first sign of rain.
6. Unparalleled peace of mind
As with all Roof Maker products, the LuxliteTM comes with a 20-year unit seal warranty. This is provides the assurance that our products are designed and built to last.
The glazed unit, spacer bar and fixings are all concealed within a neat black resin border, protecting them from harmful UV rays, which adds to their overall durability.
To find out more about Roof Maker's award-winning LuxliteTM and discover just how affordable it can be (even if you need a bespoke size), contact us today