What is a rooflight or skylight
Before we delve into the choices you need to consider when looking at different rooflights or skylights, first we want to look at what is a rooflight or skylight – essentially they mean the same thing but for the purposes of this blog post we will refer to them as rooflights.
Rooflights have become popular additions to homes as they bring natural light into interior spaces and enhance the overall aesthetic. They create a bright and welcoming atmosphere whilst reducing the need for artificial lighting which helps to reduce energy bills and is better for the environment. They also allow us to foster a deeper connection to the outdoors, you can read more about this in our blog post 'Bringing the outdoors in: How rooflights boost indoor air quality and natural light for health and wellbeing'.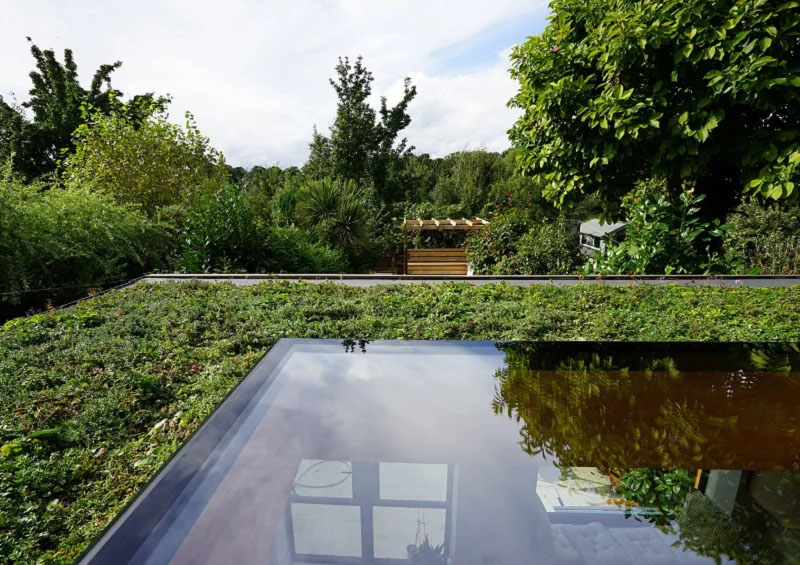 Room location
A key consideration when choosing the type of rooflight you need is room location.
Living Spaces or open plan kitchen diner: As these are areas you spend a lot of time you will need to consider a larger and more prominent rooflight. These will fill the space with natural light, creating a warm and inviting atmosphere for you to enjoy.
Bedrooms: You may prefer to select a rooflight that offers ample natural light during the day but consider a blind or glass tint if you are worried about the room getting too hot or too bright.
Bathrooms: In here you may want to prioritise privacy whilst still letting in natural light. Consider privacy glass to strike the right balance between illumination and seclusion.
Above stairs or landing: If this area is quite dark but you don't have space for a traditional window then review whether a rooflight would be a solution to the problem.
Garden Room: If you want to add a functional room to your garden, either as an office, guest room or just a nice family space, consider adding a rooflight. It will allow lots of natural light in whilst not using any wall space.
Roof type
The type of roof you have will affect your choice of rooflight.
Flat roofs have several options of rooflights:

Fixed Flat rooflights are non-opening and are a popular choice for many homeowners.
Modular systems are ideal if you want more light than a standard flat rooflight as multiple panes are joined together. This is also a great choice if you can't have a lantern due to height restrictions.
Lanterns are the ultimate feature to a flat roof as their 3d structure provides additional height and light.
Round rooflights are an eye-catching feature and can provide interest to a room.
Hinged-opening flat rooflights are ideal for rooms that require extra ventilation such as kitchens or bathrooms.
Wall abutments offer a solution where the rooflight needs to be installed against a wall and there is no room for a gap. They allow light into the inner room creating a glass ceiling effect.

Pitched roofs require a rooflight designed for sloping roofs. They can be non-opening or opening – it all depends on your requirements for the space.

At Roof Maker we have created an award winning trademarked pitched rooflight, known as the Luxlite™. With a frameless view from the inside you see nothing but light and sky. If you live in a heritage or listed property or are based in a conservation area you may want to consider a Conservation Luxlite™.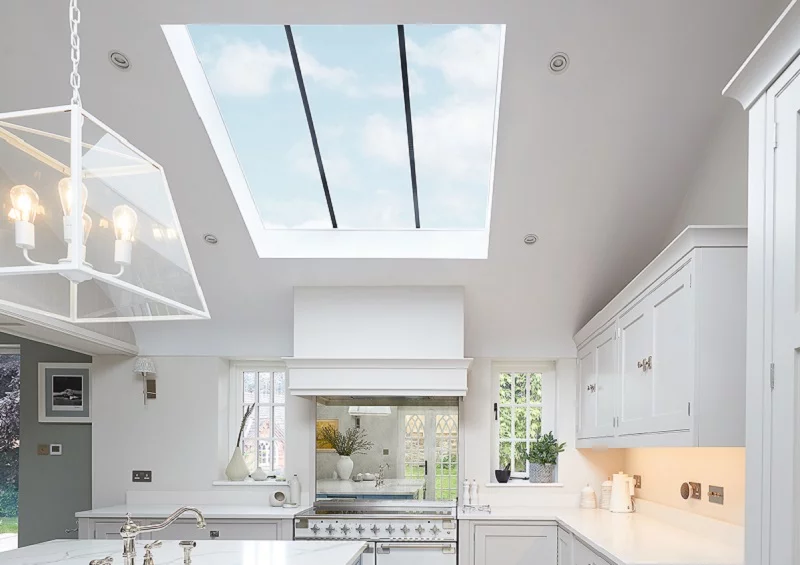 Room direction
Think about the direction your room faces as this will affect your selection of glass type or glass tint.
North facing will mean you have consistent light throughout the day.
South facing provides direct sunlight.
East facing has sun in the morning.
West facing has sun in the afternoon.
Glass Types and Glass Tints explained:
Solar glass is great for south facing and west facing rooms as it helps to minimise solar gain and repel the heat from the sun.
Privacy glass is great if you have any concerns about being overlooked.
Blue tint and Grey tint both help to reduce the heat entering the room and also reflect the UV rays to protect furniture. You can choose blue or grey depending on your colour preference.
Aesthetics
The final aesthetic appeal of your rooflight is important as it significantly impacts the look of your space, not only internally but also externally. A chat with your architect will help you to make a final decision and they can advise whether one larger rooflight or multiple smaller rooflights will be most suited to your project.
Frame Material – consider choosing an aluminium frame as it offers a sleek contemporary look and can match with existing windows or a bi-fold door.
Frame Colour – most rooflights are available in standard colours. At Roof Maker we offer jet black and anthracite grey as standard colour choices and for our Slimline® Roof Lantern you can choose a different RAL colour for the outside of the frame to the inside.
Size and Shape – when it comes to rooflights bigger can be better but you also need to consider whether multiple rooflights might give you more 'wow' factor.
Orientation – choose either portrait or landscape orientation for pitched rooflights as that can affect the overall aesthetic.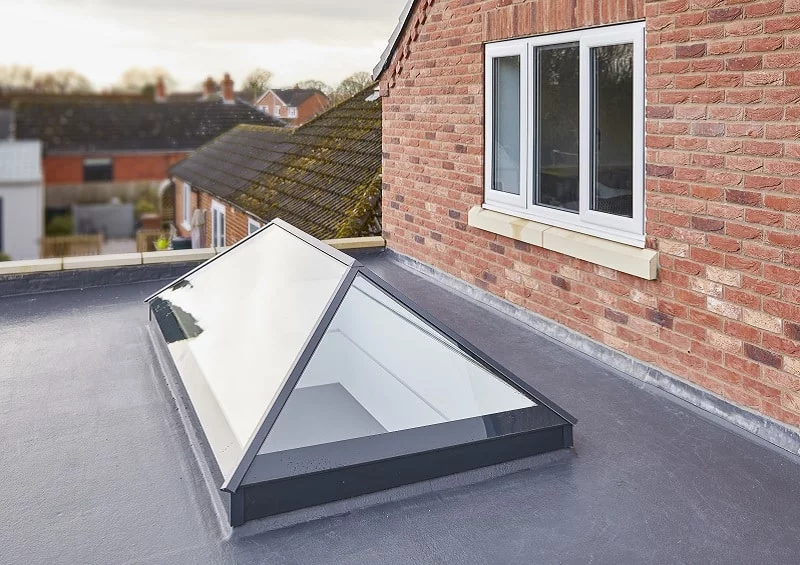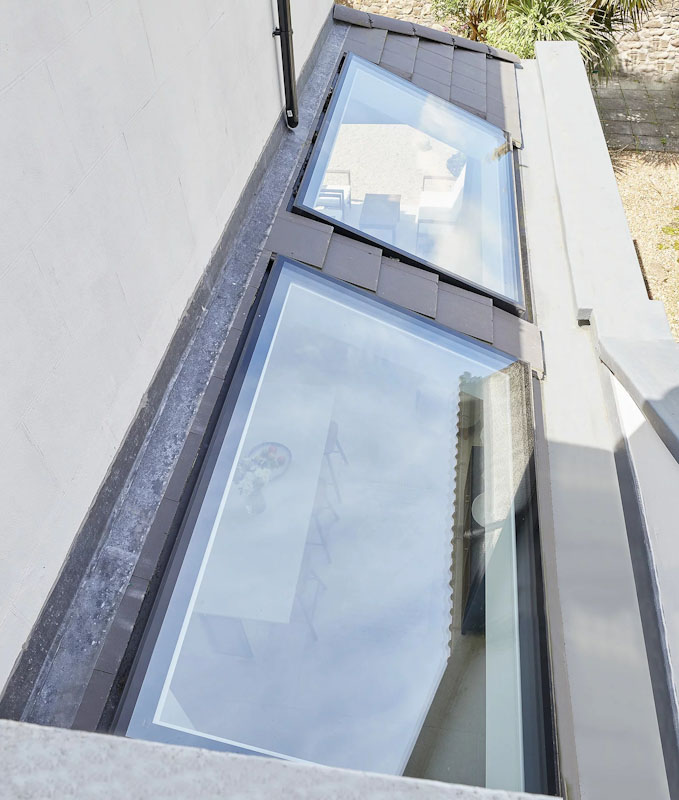 Roof Maker's range includes premium rooflights for both flat and pitched roofs.
All rooflights are designed and manufactured in-house. This means they can be made to bespoke sizes and customised to your customers' specifications.
Products are packaged and delivered by our experienced team, so you can rest assured, all the components will be provided and your rooflights will arrive in perfect condition.
For more information, visit our product pages, call our experts on 0116 269 6297 or email [email protected]