Skylight vs Rooflight
Skylight is the term many of our customers use to describe any kind of window that's installed on a roof to bring more light into a room, sometimes it's more commonly used to refer to a window on a pitched roof.  To make life simpler this is the term we'll be using in this guide.
Rooflight is the technical term for a skylight and is more commonly used by manufacturers, architects, builders and installers. You'll see this term on our product pages but, essentially, it means the same thing as a skylight. You can find out more about rooflights and skylights here.
Now we've cleared that up, let's move on to our first step.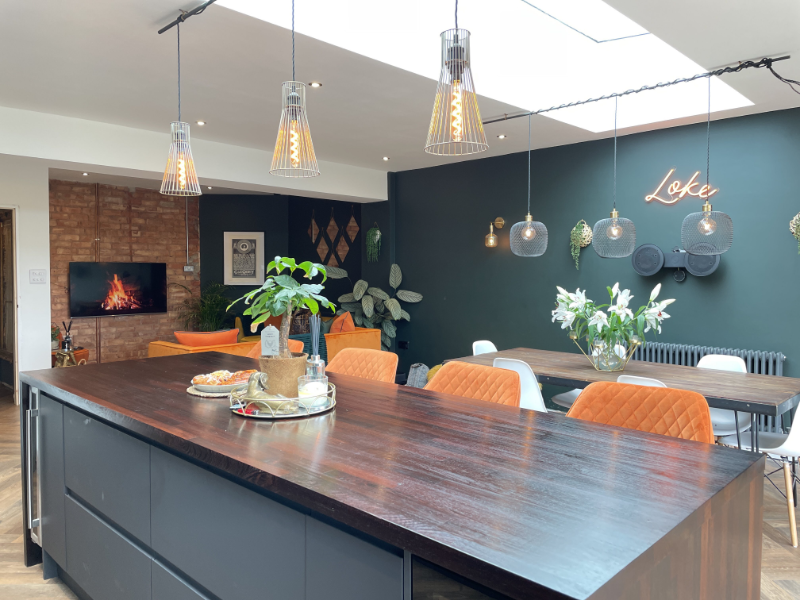 Step 1: Skylight placement
The first thing you need to decide is where you want your skylight to go. Getting the placement right can make a massive difference when it comes to balancing natural and artificial light.
Where is the best place to put a skylight?
Skylights are ideal for rooms that don't get enough natural sunlight or perhaps where installing more traditional windows isn't an option.
They can also be introduced as a statement piece, to create a wow factor in your home.
Some of the most common locations for a skylight include:
Flat roof extensions
Loft conversions
Kitchens/dining rooms
Bathrooms
Family rooms
Bedrooms
Above stairs and landings.
Consider the skylight direction
The direction your skylight is facing will determine how much sunlight you're going to get and what kind of sunlight it will be.
As a guide:
North-facing: a consistent amount of light throughout the day
South-facing: direct sunlight, which brings both light and warmth
East-facing: morning sun, which helps to awaken and energise you
West-facing: warm sun in the afternoon.
What if the sunlight gets too bright?
This can be common, especially for southernly facing rooms with bifold or sliding doors. If the sunlight gets uncomfortably bright, our skylights do have the option of tints to limit the harsh brightness of the sun. We also have the option of blackout fabric blinds to temporarily block sunlight, especially handy for rooms with a television.
The blinds can be manual or motorised and are available for most of our product range, you can find out more about our blinds here.
Step 2: Skylight style
The next step is to choose the style of skylight you want. It's important to consider the space that you have available as well as the aesthetics from inside and outside the property.
The styles available to you will depend on the kind of roof you have — and whether you want them to be opening or fixed (non-opening).
Skylights for flat roofs
Our skylights for flat roofs come in a variety of styles, which are detailed below. Each style has its own particular features and benefits suitable for roofs with a pitch between 0 and 15 degrees.
Fixed Flat Skylights
Our best-selling skylights are low maintenance and popular with both homeowners and professionals.
They're triple-glazed as standard with double-glazed available as an option, which helps to block outside noise and prevents heat from escaping to keep your energy bills down. Perfect for adding light to dark areas with little fuss.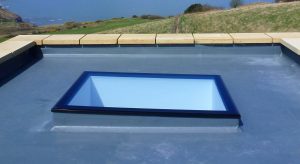 Passive House Skylights
The Passive House version of our fixed flat skylight has achieved an international standard for energy efficiency, helping to reduce both energy use and carbon emissions.
Hinged-Opening Flat Skylights
Hinged-opening skylights are especially useful for ventilating steamy kitchens and bathrooms, where cooking smells and condensation can linger.
These flat skylights have a concealed chain mechanism that can be operated by a wall-mounted switch or remote control. An optional in-built rain sensor can close the skylight automatically if it rains.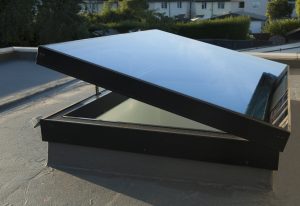 Round Skylights
With its circular shape and minimalist contemporary design, the O-lite round skylight makes a bold style statement in any room. This fixed skylight creates a striking halo of beautiful natural light.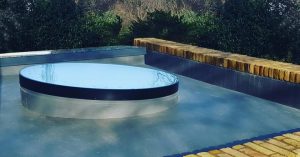 Wall Abutment Skylights
Wall abutment skylights can be installed on a flat roof, butting up to the exterior wall. These fixed skylights are designed to allow natural light into the inner rooms of a property allowing placement closer to external first-floor walls.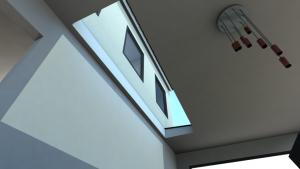 Pyramid Skylights
This fixed skylight lantern makes a stunning addition to your flat roof. The pyramid shape attracts sunlight from all directions and the modern ultra-slim frame maximises light transmission. So your room is flooded with natural light throughout the day. The 45-degree pitch on the glazing adds volume to the room and helps the easy-clean coating on the glass.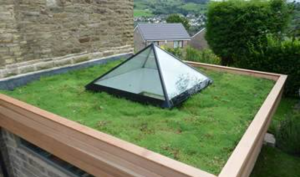 Slimline® Roof Lanterns
The Slimline® roof lantern is a statement piece, with a classic style to suit properties both new and old. Its angular design draws in natural light throughout the day, from sunrise to sunset. The slim glazing bars add a statement touch without encroaching on the floods of natural light coming through.
The lanterns can be fixed or with one or two hinged opening panels for added ventilation.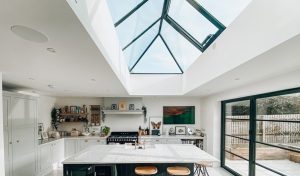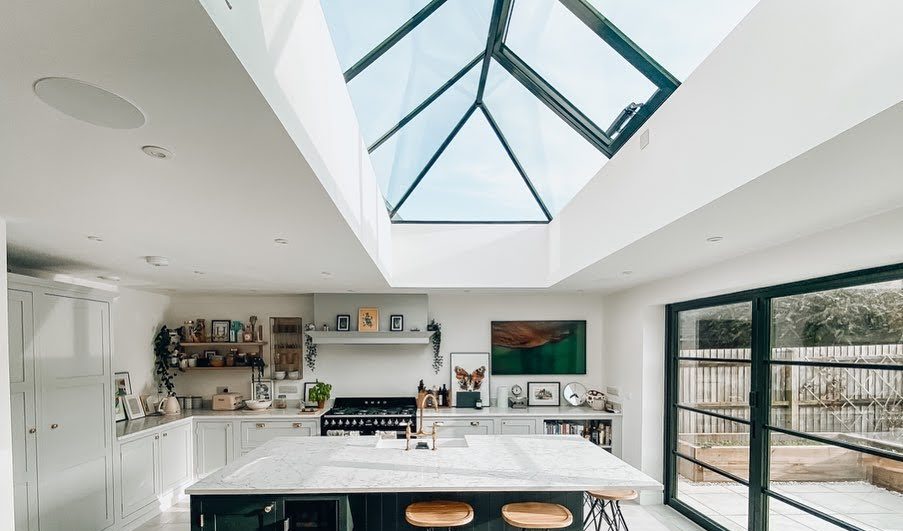 Skylights for pitched roofs
If you have a pitched (sloping) roof, you'll need a Luxlite. These skylights are ideal for lofts, side-returns and loft conversions with a pitch between 15 and 75 degrees.
Luxlite skylights for pitched roofs
Luxlite pitched skylights are designed with a minimal frame that can't be seen from the inside giving a signature frameless look. This gives you maximum light in your room for the size of the hole in the roof.
The Luxlite can be fixed or with a hinged opening and fitted landscape or portrait to make the optimum use of the available space. The Luxlite skylight can be fitted to almost any type of pitched roof and can be installed flush to the roof tiles.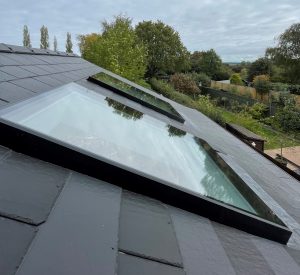 Conservation Luxlite skylights
The Conservation Luxlite pitched skylight offers the modern benefits of skylights in a timeless design that's more suitable for older properties including those in conservation areas or with listed status.
This design works well in conservation areas, listed buildings and period properties and can be made with or without a hinged opening.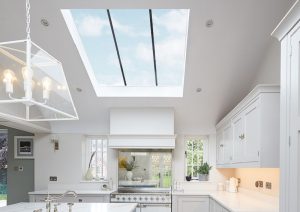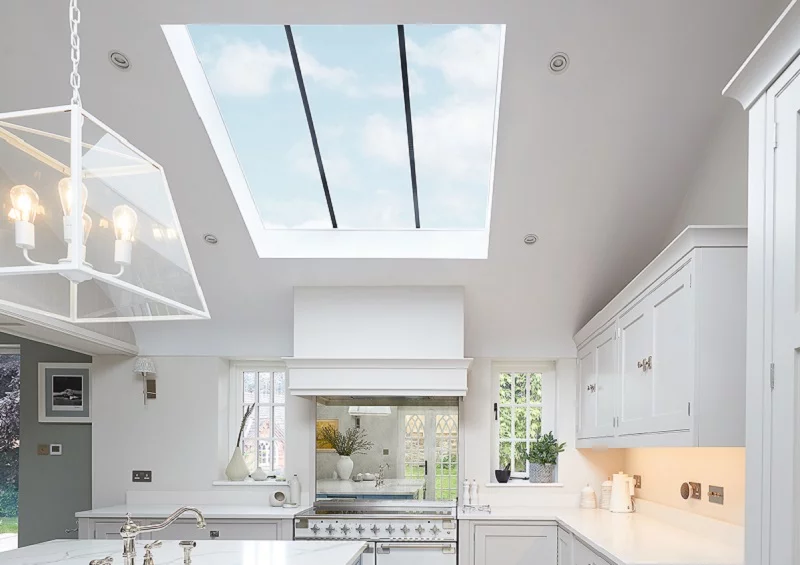 Step 3: Skylight sizes
When you've decided on a place and style for your skylight, you need to decide what size it should be.
We offer a range of standard sizes, but can also manufacture bespoke sizes to order — up to a maximum size for each style of skylight. Please ensure that you structure can cope with the weight of the skylight you desire, weights and size configurations can be checked with our sales team.
If you'd like a bespoke quote:
Measure the area where you'd like the skylight installed from timber to timber
Measure the pitch of your roof
Contact us with these details and the type of skylight you want we'll guide you through your options.
Here's a handy guide on how to measure your skylight and roof pitch.
What if the size I want is too big?
If the skylight you want is bigger than we can manufacture, you could consider a modular skylight instead.
Modular skylights
The modular skylight system allows you to create a larger skylight by joining individual glass panels together in a formation.
Modular skylights can be ideal if you want a large expanse of glass, have an unusual space or need to conform to building regulations. Please contact our helpful sales team to configure your ideal modular skylight.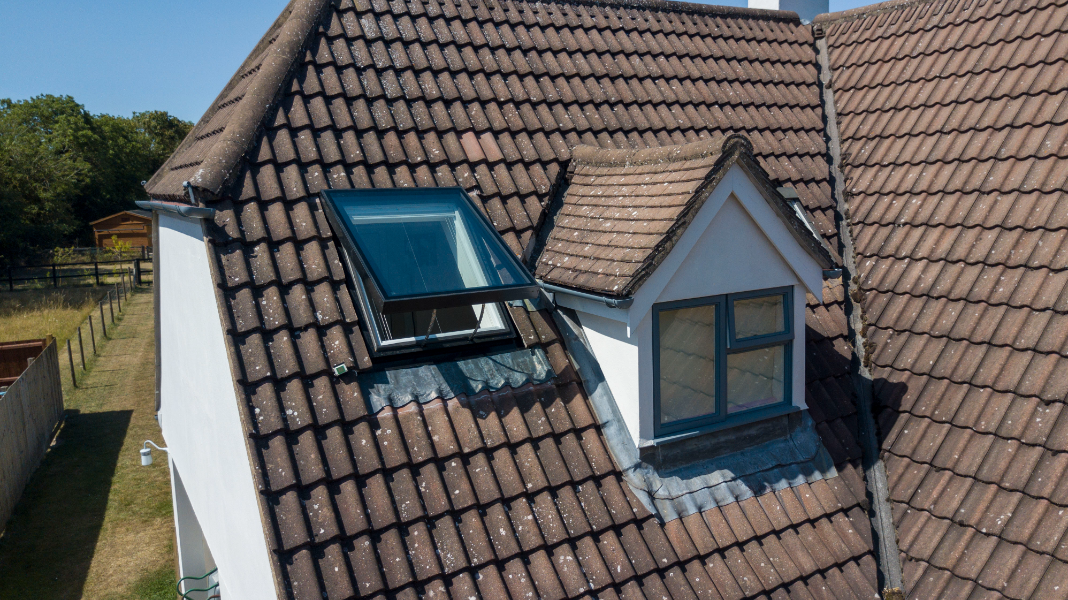 Step 4: Skylight glass
Our standard skylight glass filters out 100% of harmful UV rays and has an easy clean coating, which reduces the need for manual cleaning.
But there are additional options to help you save energy, maintain a comfortable temperature, reduce outside noise and keep your home secure.
Energy saving
All our glass offers exceptional thermal insulation to prevent heat loss during the colder months. This means your heating doesn't have to work so hard to keep the room warm, which helps keep your energy bills down.
You'll find triple-glazed skylights offer better insulation than double-glazed because they have an extra pane of glass.
Temperature control
Adding a skylight can increase the temperature in your room during warm weather, creating a greenhouse effect. This is especially true if your room is south or west-facing and catches the sun during the hottest parts of the day.
Temperature control glass has a reflective coating that repels heat from the sun and prevents your room from becoming uncomfortably hot.
Noise pollution
If you live in an area where there's a lot of outside noise, you'll want to minimise what you can hear inside your home.
Triple-glazed skylights offer greater noise reduction than double glazing. And if you want to reduce it even further, there are additional measures, such as our toughened laminated panes found in our acoustic glazing. For even greater noise reduction some of our flat rooflights are also available with quadruple-glazing.
Security
All our glazing features toughened glass as standard. But if you want an extra layer of security, we can use toughened laminated glass for added peace of mind.
In the unlikely event of an object striking the security glass, the toughened laminated glazing is held together with an adhesive layer.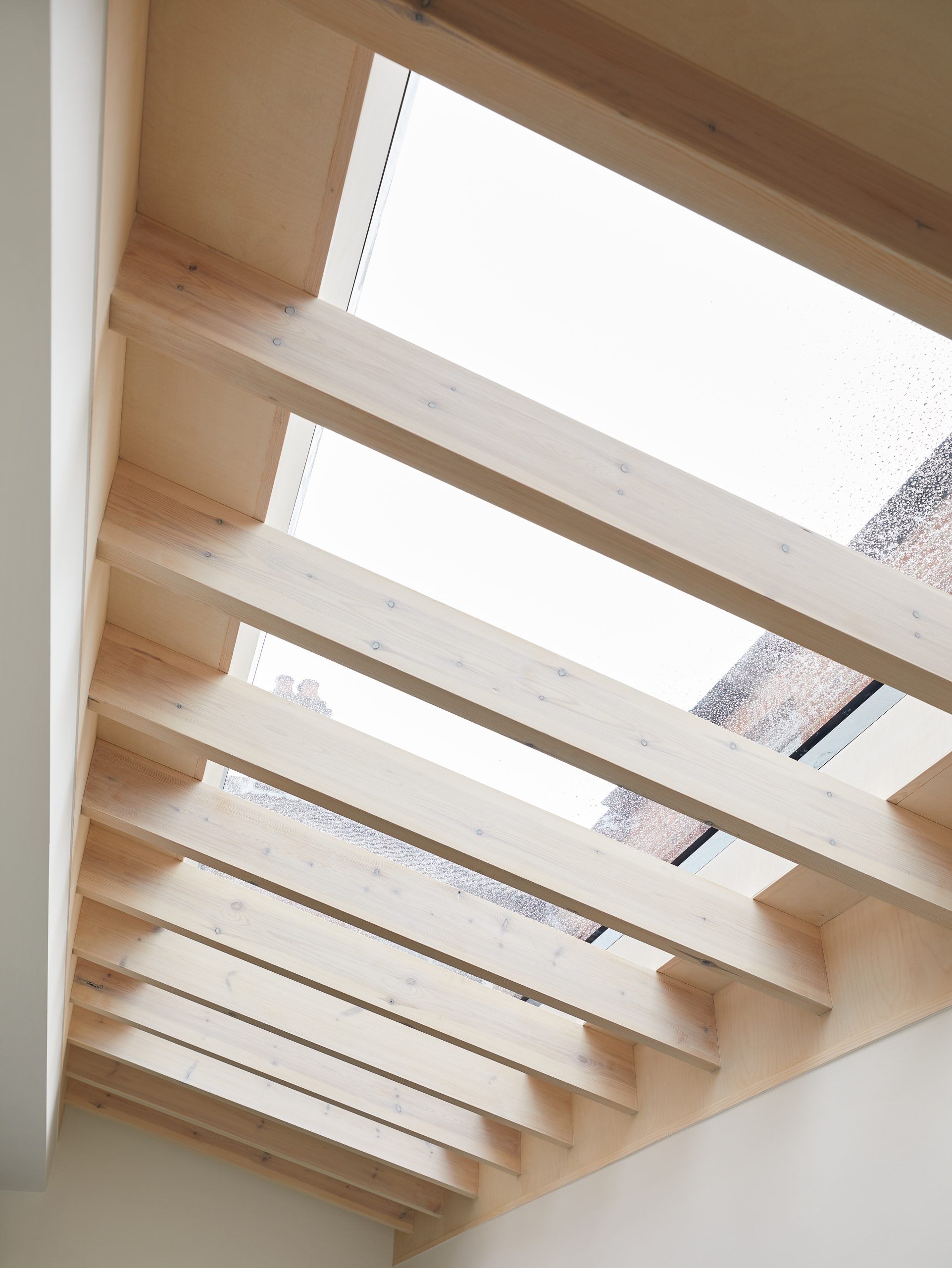 Step 5: Skylight installation
When you've chosen and purchased your skylight, you can collect it from us or have it delivered to your address for an additional fee. A professional tradesperson will be able to install our rooflights by following our installation guides, advanced diyers can also install the majority of our product range.
You'll find readable installation instructions on our website and video tutorials on our YouTube channel.
Still have questions?
If you still have questions about our skylights, you may find the answers below.
How much do skylights cost?
The cost of your skylight will depend on the skylight you choose and any additional services you might need.
As a guide, these will include:
Style of skylight e.g. flat, lantern, fixed, opening
Size of skylight
Type of glazing, double or triple
Additional tints, coatings, lamination
Delivery or collection
Professional services e.g. architects, planners, builders.
It's always best to get any quotes upfront to make sure you know exactly how much you'll be paying.
Do you need planning permission for a skylight?
In England and Wales most skylights don't need planning permission, but certain conditions and exceptions apply.
In Scotland, the rules are different and you should seek planning permission.
You can read more in our full article on skylight planning permission. If you're unsure please always check with your local planning authority.
Are there building regulations for skylights?
Yes. Any structural change to your property must conform to building regulations to ensure it's safe and effective.
For skylights, you will need approval in several areas.
Please read more about skylight building regulations.
How long does a skylight last?
All our skylights are built to last, so you can buy with confidence and enjoy your skylight for many years to come.
When you buy from us, you'll get a 20-year unit seal warranty, plus a wide range of other benefits including our excellent customer service team and technical experts.
You'll find our full warranty information in our Warranty Document.
Where can I buy skylights?
You can buy our premium skylights direct from us, the manufacturer.
Roof Maker is a national leader in the design, manufacture and supply of stunning high-performance skylights.
You can browse and get a quote on our full range of skylights online or contact us for quotations, information and expert advice.
To get in touch with our highly experienced advisors call 0116 497 1265 or email [email protected].