You'll want a roof that complements your existing property and suits the kind of extension you're looking for. And something that meets your needs in terms of its appearance and functionality.
The two most common options are a pitched roof extension or a flat roof extension. But what's the difference?
Pitched roof vs flat roof
Roof slope
The main difference between a pitched roof and a flat roof is the slope.
All roofs slope to some degree. They need to so that rainwater can drain away.
Typically, the slope of a pitched roof is around 15-70 degrees, while a flat roof is around 10-12 degrees.
Construction and materials
Both pitched and flat roofs have a layered structure, comprising a plasterboard ceiling, timber joists, insulation and waterproof membranes.
Pitched roofs are topped with roof battens and surfaced with tiles. Flat roofs are topped with a waterproof surface, which is usually an asphalt, rubber or PVC-based material.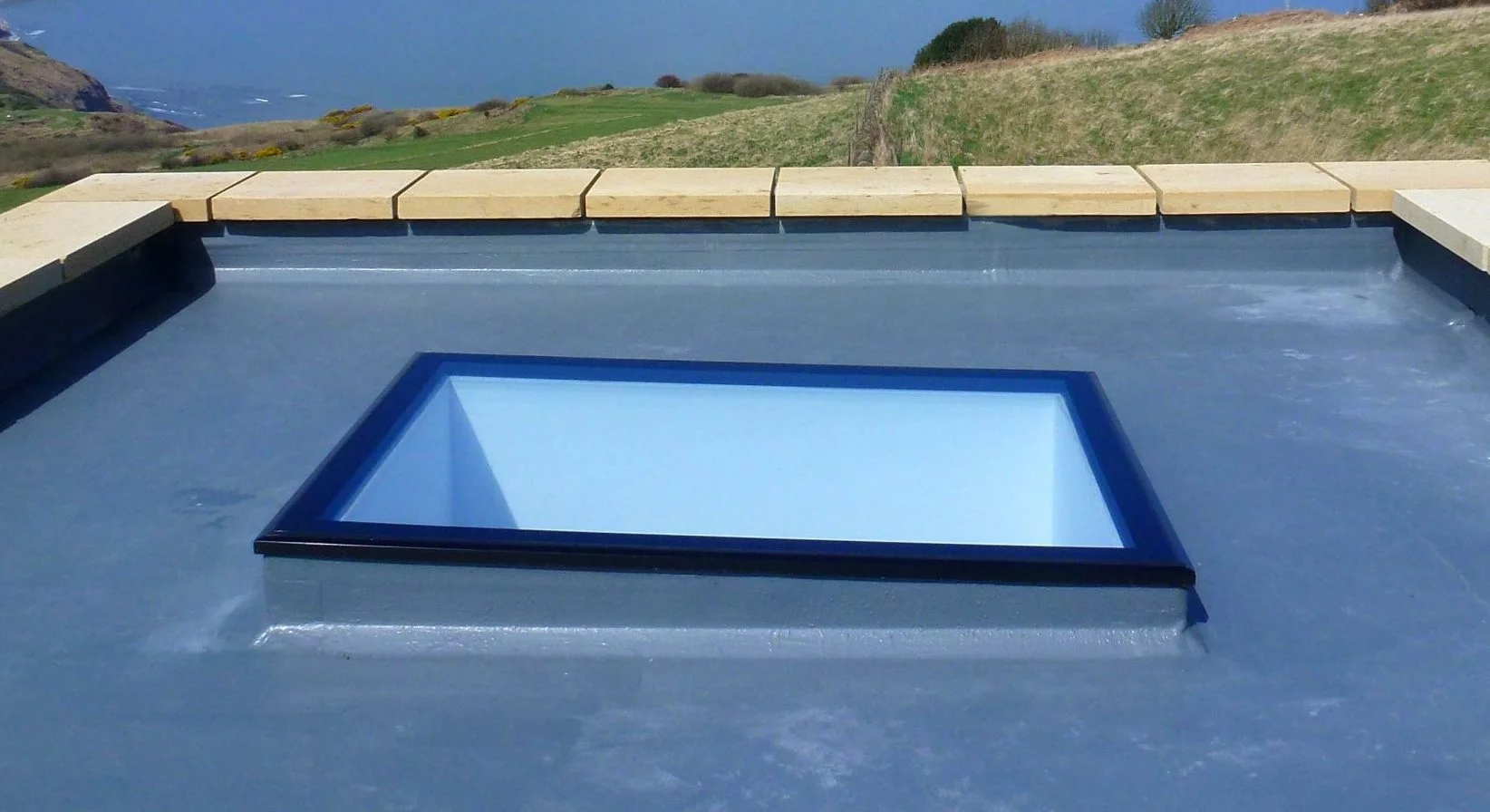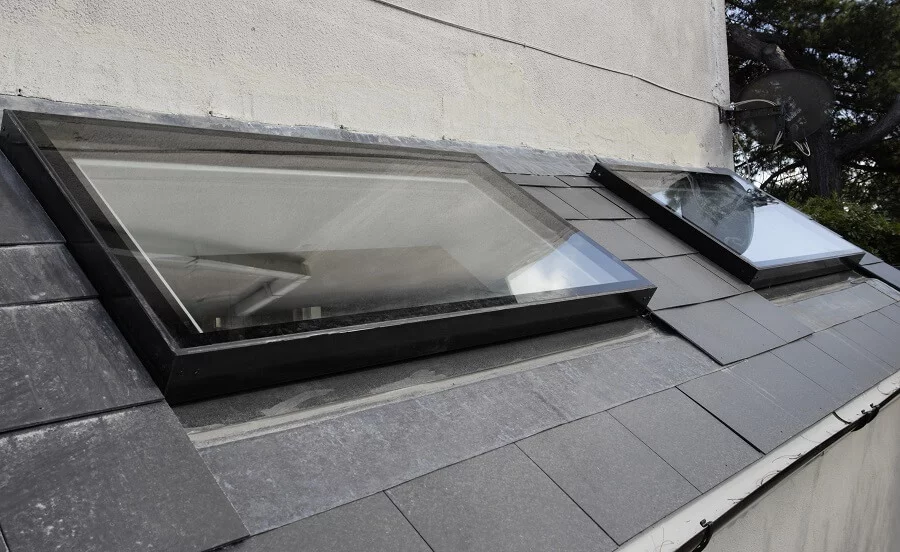 Pitched roof extension pros and cons
Pitched roof and flat roof extensions each have their own advantages and disadvantages. Whichever you choose, you'll need to take these into account.
In this section we'll look at the pros and cons of a pitched roof extension.
Advantages of a pitched roof extension
A higher ceiling
If you're installing skylights in your pitched roof, you'll have a vaulted ceiling inside your extension. This will add height to your interior, giving you a real wow-factor and an increased sense of space.
More natural light
The angled glass in a pitched skylight is more effective in catching the sun's rays and channeling them into your space throughout the day.
Exposure to natural light has lots of great health benefits, too.
The style complements most properties
Most UK homes have pitched roofs. If your extension also has a pitched roof, it will complement your property architecturally, creating a consistent shape and style.
Pitched roof extensions tend to have a more traditional aesthetic, so they're a popular choice for older properties, including listed buildings. They're also favoured by planning departments, which may make it easier to get planning permission.
You can use corresponding materials and colours to make your new extension look like it's always been part of your home. Or go for a more contrasting scheme that will set your extension apart.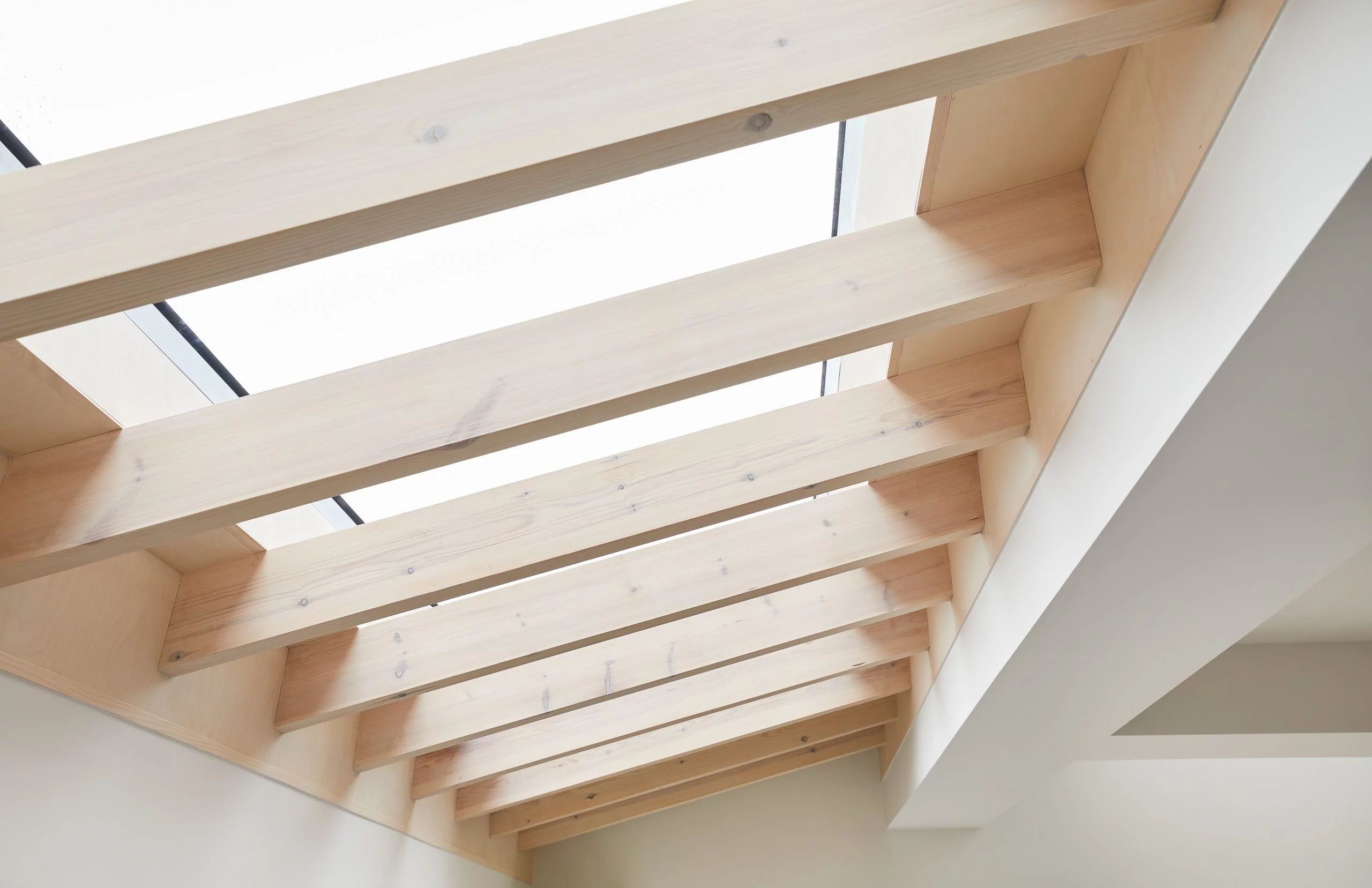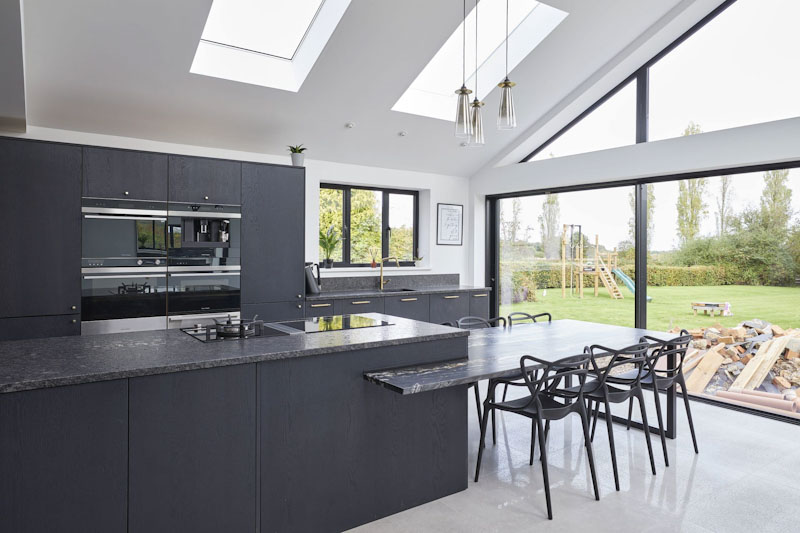 Long-lasting
Pitched roof extensions can have a much longer lifespan than flat roof extensions. This is because the materials in a pitched roof are generally more weather-resistant and durable
A clay-tiled pitched roof that's well-maintained can have a lifespan of around 50-75 years. So it could last more than twice as long as an average flat roof.
Low maintenance
A pitched roof needs very little maintenance. This is because the slope of the roof allows rain and snow to slide down and drain away quickly, so there's no harmful build-up of moisture.
For optimum water drainage, you'll need to clean out your gutters twice a year. And be alert for any loose or missing tiles, especially after heavy winds and storms.
Disdvantages of a pitched roof extension
More expensive
According to Checkatrade, the average cost of a pitched roof extension is £60,000. This is £7,500 more than the average flat roof.
The extra cost is primarily because a pitched roof extension requires more construction, takes longer to build and uses more expensive materials.
But, if you can afford the initial outlay, it's also more weather-proof and will last much longer with less maintenance.
Fewer skylight options
With a pitched roof, your skylight options are more limited than the styles you can get for a flat roof. But these skylights can still be beautiful, functional and effective.
Roof Maker's range of pitched roof skylights offers contemporary design, superb thermal performance and exceptional durability.
Needs more extensive construction
As a pitched roof is a heavier structure, your extension will need more structural support, with stronger foundations and deeper footings.
This obviously adds to the cost. It also means that the construction will take longer and be more disruptive.
Not suitable for all properties
Pitched roof extensions can be much taller and this means they're not suitable for all properties. For example, you might run into planning issues if your proposed pitched roof extension will block a neighbour's light or view.
If the style, size or shape of your home means a pitched roof extension isn't an option, you could look at the pros and cons of a flat roof extension instead.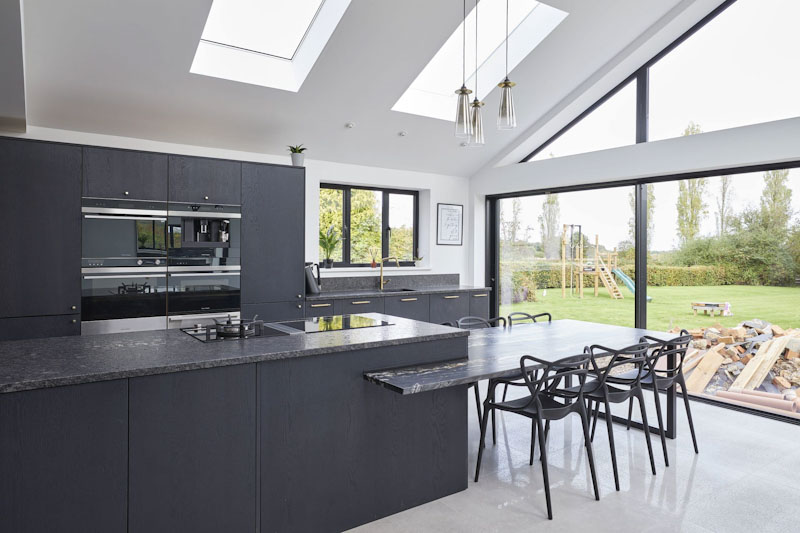 Flat roof extension pros and cons
Flat roof extensions are more common and tend to be suitable for most properties. Here are the advantages and disadvantages of flat roof extensions.
Advantages of a flat roof extension
More affordable
According to Checkatrade, the average cost of a flat roof extension is £52,500. That's £7,500 lower than the average cost of a pitched roof extension.
A flat roof extension requires less construction and comprises fewer materials, which makes it quicker and easier to install.
Modern aesthetic
If you want a more modern style, a flat roof extension could be your best option.
This type of extension will complement a modern property beautifully or add a contemporary twist to a more traditional property.
More skylight options
A flat roof extension gives you more choice when it comes to the style of your skylights. Options include a range of flat and three-dimensional shapes.
Roof Maker's flat roof skylights combine stunning design with exceptional long-lasting performance.
More versatile
With a flat roof extension, you can decide to make use of the space on top of the roof. For example, you could create a green roof by planting it with foliage to encourage biodiversity — and still have your skylights.
If you don't want skylights and would prefer to use the roof for something else, you might be able to use it as a rooftop garden or balcony. It could also give you the option to add a first-floor extension at a later date.
Note that if you're planning to use the rooftop space, this should ideally be in your plans from the start. This is because your extension will need to have more structural support to handle the extra weight.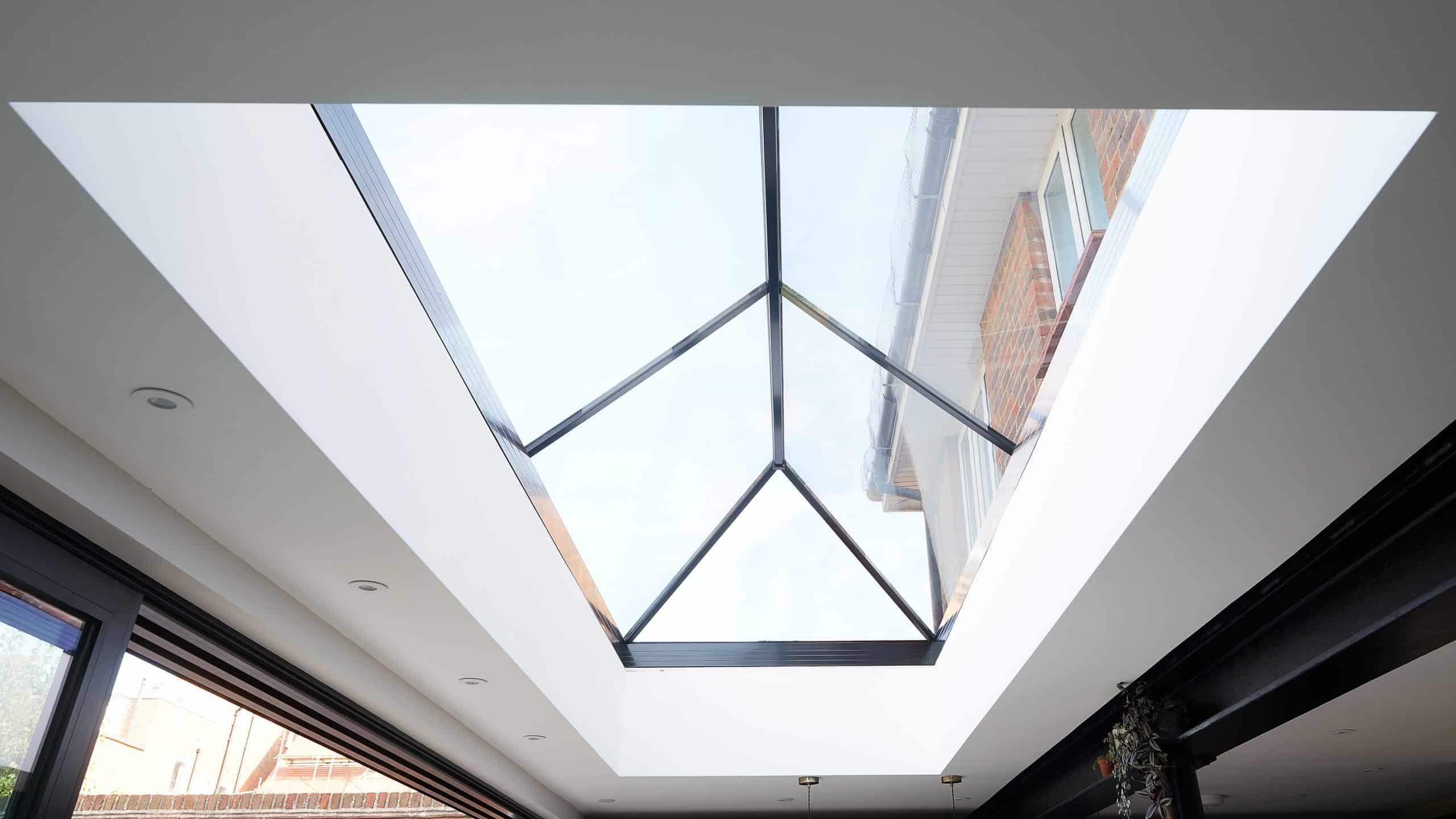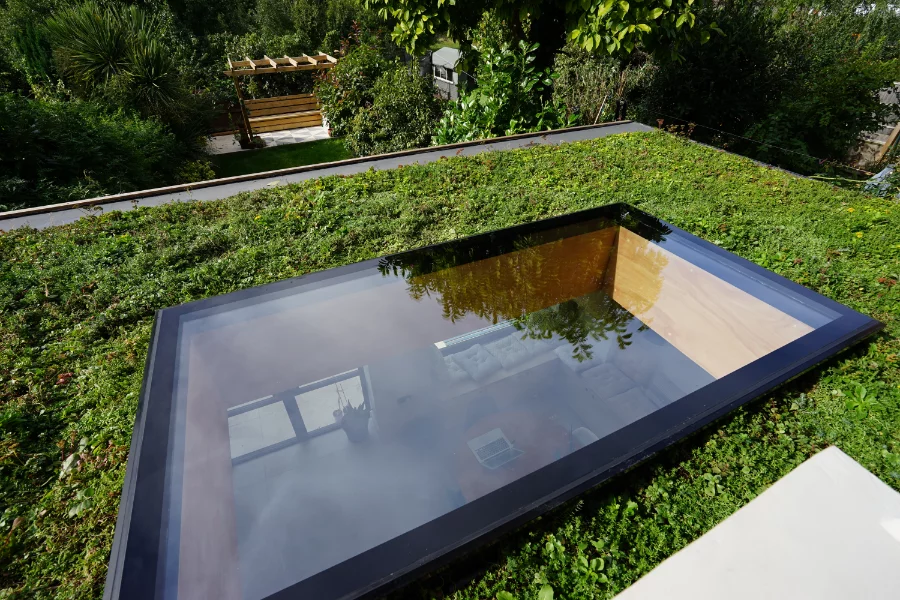 Disadvantages of a flat roof extension
More prone to damage
A flat roof has a slight slope, but it's not as effective at draining water as a pitched roof. And in heavy rain, water may pool on the roof's surface.
This means there's a greater risk of moisture damage and leaks over time.
Needs more regular maintenance
Due to the increased risk of damage, a flat roof extension will need regular maintenance and an inspection at least every autumn and spring.
During the autumn inspection, leaves, dirt and debris should be removed from the roof and guttering. Your downpipes should be checked to make sure they're clear and that water is draining properly.
The spring inspection should also check for weather damage and make any necessary repairs.
Shorter lifespan
A flat roof is estimated to last between 15 and 30 years, depending on weather exposure, maintenance and the quality of the construction materials. That's around half the lifespan of a pitched roof.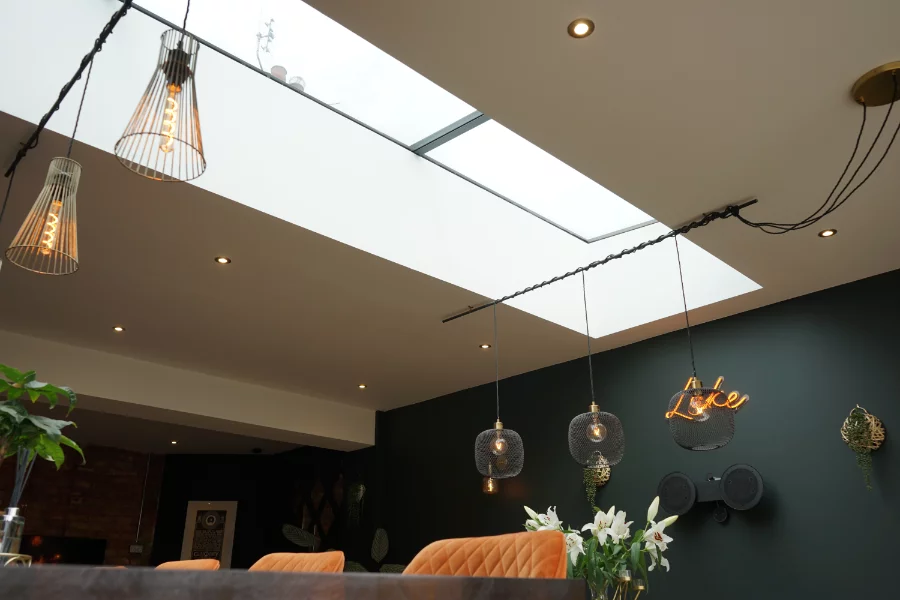 Considering an extension with skylights?
Whether you're thinking of a pitched roof or flat roof extension, Roof Maker can offer you a range of beautiful skylight options.
Skylights for pitched roofs
Some pitched roof skylights have chunky frames that can block your light and spoil your view. But Roof Maker skylights are different.
Our pitched roof skylights appear frameless from the inside, so all you see is glass. This allows more light to come into your room and gives you clear and uninterrupted views.
Roof Maker offers a choice of three pitched roof skylights:
Luxlite pitched rooflights are the most popular. Their contemporary design and choice of frame colours makes them suitable for all kinds of properties.
Conservation Luxlites are specifically designed for listed buildings and properties in conservation areas.
Luxlite LP pitched rooflights are a variation on our Luxlite rooflights. They feature the same classic design, but have a lower profile which means they sit closer to the surface of the roof.
Skylights for flat roofs
If you're building a flat roof extension, your options can include both flat and three-dimensional skylights.
Choose from our classic fixed flat rooflights, go for a stunning architectural feature, like a roof lantern or circular skylight — or introduce even more glass with our modular skylight system.
Get in touch
If you need expert advice, or a quotation, call the team on 0116 629 6297 or email [email protected] and we'll be happy to help.