The trend for informal living
It's all part of a new trend for a more informal and sociable style of living.
Modern houses are now being built to include more open-plan living spaces. And traditional homes are being remodelled to include them, too.
One of the most desirable open-plan spaces in a modern family home is the open-plan kitchen diner.
The open-plan kitchen diner
The open-plan kitchen diner is an informal, multifunctional and social space where people can come together.
It's a space where children can do homework at the dining room table, while their parents prepare a meal. Where dinner party hosts and guests can socialise together while the food is cooking. And where parties can happen with all the guests in the same room.
It's a bright space, filled with natural light. A healthier, happier heart of the home and a room for people to enjoy spending time in.
If you're considering a space like this for your home, this post is full of open-plan kitchen diner ideas to help you plan and decorate your space.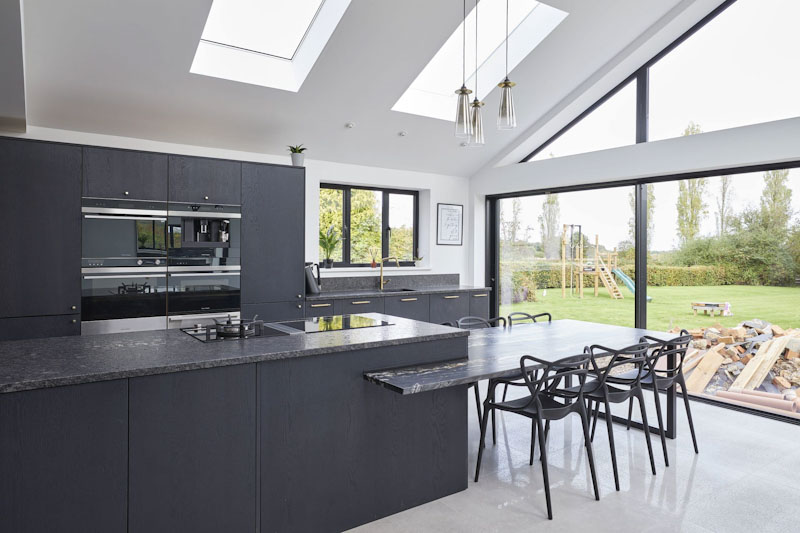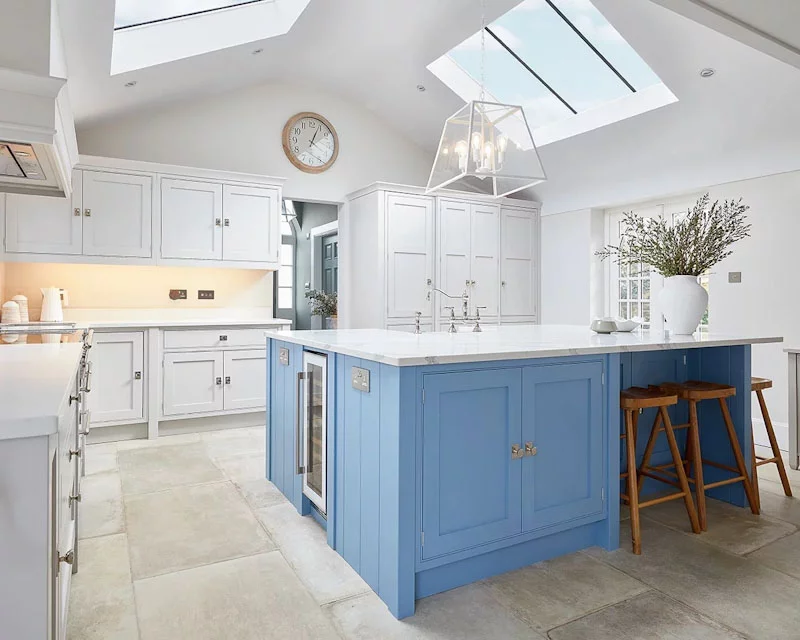 Open-plan kitchen diner extension
If you've decided to create an open-plan kitchen diner in your home, you'll need to think carefully about how you'll be using the space and create a layout that works well for you and your family.
Many open-plan kitchen diners are created by building a single-storey extension on the back of the house.
An extension like this creates extra space on the ground floor of your property and has its own roof, which can be used to accommodate skylights. With the right windows and doors, you could also enjoy panoramic views of your garden.
Roofing options for your extension
The most common options are a flat roof extension or a pitched roof extension.
Flat roofs are a popular and more affordable option. They're quicker to construct and require fewer materials than a pitched roof. But they're also more prone to weather damage, need regular maintenance and don't last quite so long.
Pitched roofs cost more, but they're more durable, more weather resistant and better at draining surface water. With a pitched roof, you also have the benefit of a vaulted ceiling, giving you additional height and light inside your extension.
Skylights for kitchens
The dream open-plan kitchen diners you see on Pinterest and Instagram are bright welcoming spaces, flooded with natural light. This abundant light comes from skylights.
How to choose skylights for kitchens
When choosing skylights for kitchens, there are a few things to consider.
In a kitchen, it's a good idea to have skylights that open. These skylights provide ventilation and help to expel steam and cooking smells from your room.
The kitchen diner is a room you'll want to spend time in, so triple-glazed skylights are often advisable. Triple-glazing gives the best heat insulation, which will help to maintain a comfortable temperature in your extension all year round.
If your room is south-facing, consider glass coatings that reduce solar gain. This will prevent an unpleasant build-up of heat in direct sun.
To create a consistent colour scheme, look for skylights that are available in a range of colours. This will allow you to colour-coordinate your skylights with the windows and doors you've chosen.
With any skylight, you'll want to make sure you're getting as much light as possible coming into your room. The best skylights for light transmission have maximal glass and a slim unobtrusive frame.
Roof Maker's skylight range can offer you all of the above.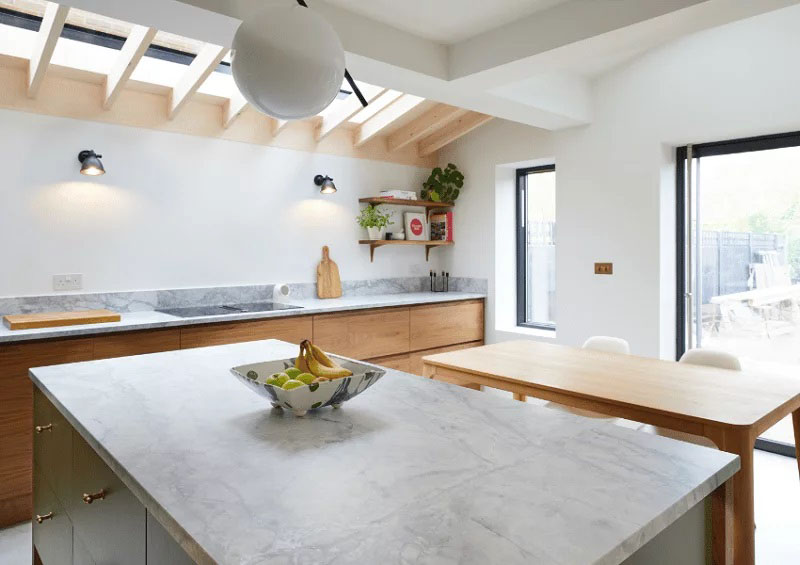 Open-plan kitchen diner layout
The layout of your kitchen diner will depend on the orientation of your space.
Long and narrow space
If your space is long and narrow, a galley kitchen at one end of the room might be the best option. The dining area could occupy the space in the middle and there could be room for some lounge seating at the other end.
In terms of skylights, you could have one above each separate area. For example, an opening skylight above the kitchen and fixed ones for the dining area and/or lounge.
If you're having a flat roof, you could also consider a modular arrangement that spans the whole area.
Square space
In a square space, you could have the popular kitchen layout with the cupboards and appliances along the back wall, a kitchen island in front and your dining table beyond that in the middle of the room.
A square space has more of a focal point on the ceiling, so you could create a feature skylight with a roof lantern. Roof lanterns have a three-dimensional shape, with angled glass that draws in light from all directions.
Things to consider
Whatever your layout, you need to think about how people will move through the space, from one area to another. Make sure it flows easily and naturally with no tight walkways or awkward corners.
In a multifunctional open-plan space, you'll have different zones for different functions. These zones can be separated using what's called a 'broken plan' layout. The idea of a broken plan is to create distinct sections while maintaining a sense of unity and without losing any light. This is easier when you have skylights, because the light is coming in from above.
A broken plan uses different techniques to designate the different zones. This might be structural, with half walls, construction materials and variable floor heights. Or it could be through clever use of decoration, colours, shapes and furniture positioning.
Another popular feature is a bi-folding door, which opens fully into the garden, giving you the option to unify your indoor and outdoor spaces.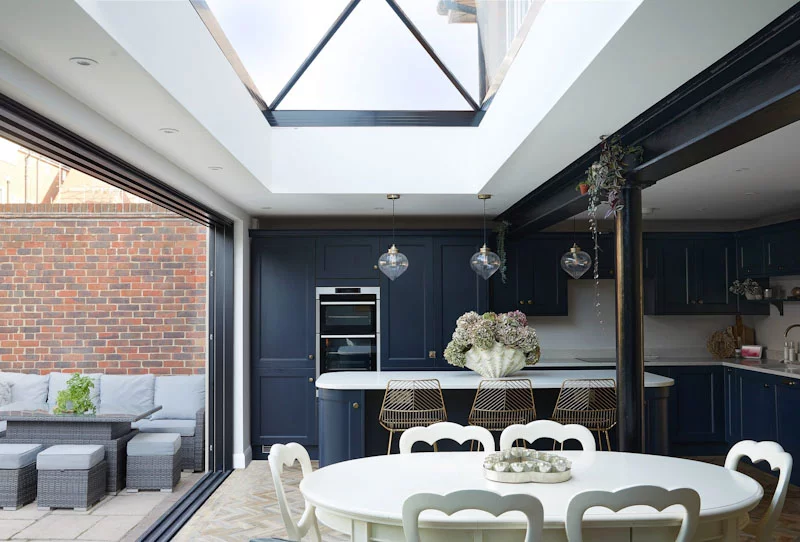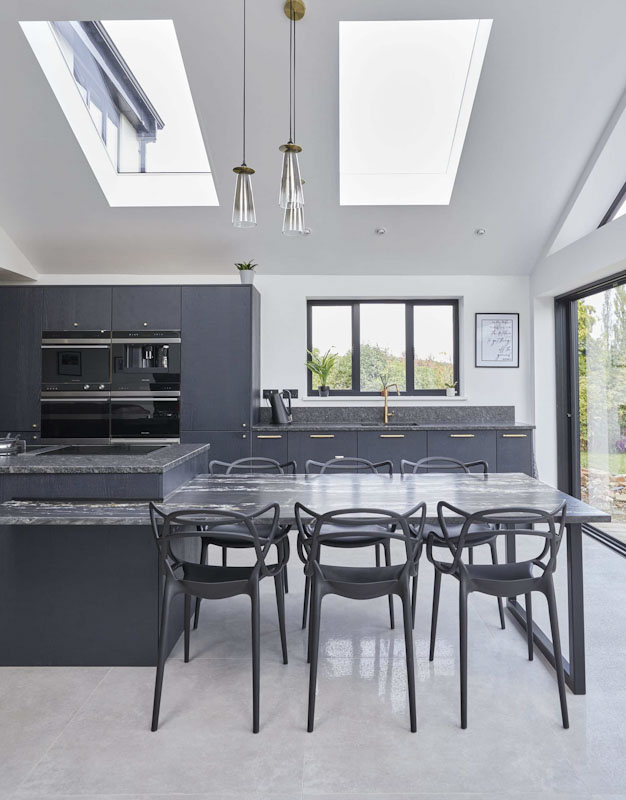 Planning your dream kitchen diner
Your ideal kitchen should be practical and functional with plenty of storage space. But it should also be a room you'll enjoy spending time in.
Practicality and function
Flooring
Consider the flooring — especially in high-traffic areas like the kitchen. It should be hard-wearing, non-slip and easy to keep clean.
You can choose from a range of options including concrete, tiles, hardwood, laminate, stone and granite. Sealed floors are the most water-resistant and best for mopping.
Seating
The room could include a number of seating options, from stools at the kitchen island/breakfast bar, to dining room chairs — and, possibly, lounge seating elsewhere in the space.
Food preparation space
Decide how much space you'll need for food preparation and, if you have the space, whether a second sink might be handy.
Placing sinks and worktops in front of windows will give you a view while you're working. And installing an opening skylight directly above the kitchen will give you plenty of natural light and ventilation.
Appliances and electrics
Think about your smaller worktop appliances and where they'll fit into the new scheme. If you're keeping them on the worktop, you'll need well-placed electric sockets to power them.
You might also think about USB sockets for charging your gadgets.
Storage
If you're going for a minimal look, you'll need large cupboards to store your appliances and keep them out of the way. One option is to have a secret breakfast cupboard where your coffee machine, kettle and toaster are all accessible, but hidden away.
Another option could be to have a pantry. This walk-in shelved cupboard is the perfect concealed space for storing food, pots, pans and other awkward/occasional items.
Space-saving ideas
If you're short on space, you'll probably be looking for some more compact features for your space.
Built-in appliances can look neater and more unified than free-standing ones — especially in a smaller kitchen.
Free-standing dining chairs can take up a lot of space. For a more compact alternative, look at fixed banquette seating or benches that slide fully under the table.
If you have benches, you could also push the dining table against a wall while it's not in use to create more usable floor space.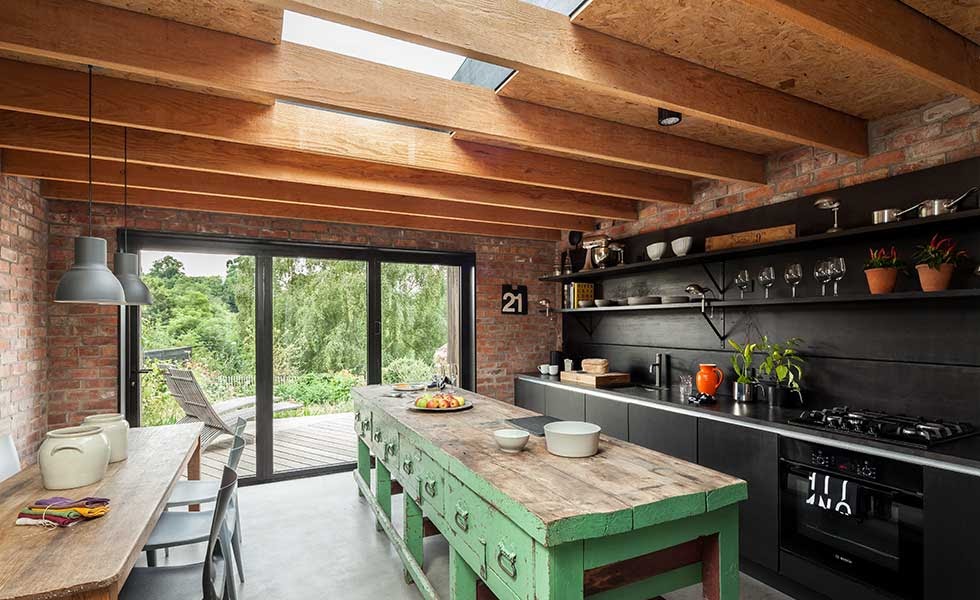 Kitchen diner colours and schemes
When you've planned your layout, you can choose the colours and schemes for your space.
Ideally, go for a classic style that won't look dated in a few years. Or choose a style you can update yourself, for example, by painting or treating the cupboard doors.
Choosing your style
If you don't already have a style in mind, you might be looking for some ideas to inspire you.
Construction materials
Your style could follow the construction of your extension. Exposed brick and steelwork might inspire a more industrial style. While exposed stone and timber could give a country house aesthetic.
Cabinetry and furnishings
Natural materials, like wood, clay and wicker, create an organic and calming space. While reflective materials like metal accents, shiny cupboard doors and polished floors help disperse the light coming in and brighten up the space.
If you want a more sustainable and eco-friendly design, look for kitchens made from recycled and reclaimed materials. Or give second-hand kitchen units a new lease of life.
Colours and lighting
With skylights maximising the natural light coming into your space, you can embrace trends for darker kitchen units and colour schemes. Dark greys, rich greens and navy blues have all been popular choices in recent years.
After dark, think about artificial lighting schemes that will complement the space. Dimmable LEDs go from bright lights you can work under, to soft lights you can relax and entertain in. Long pendant lights can create a more intimate feel in kitchens with high ceilings.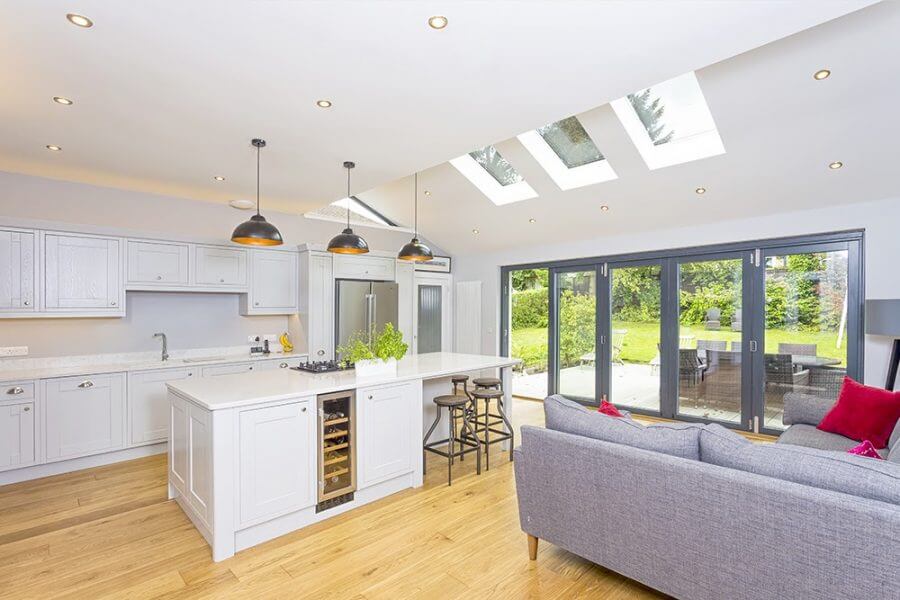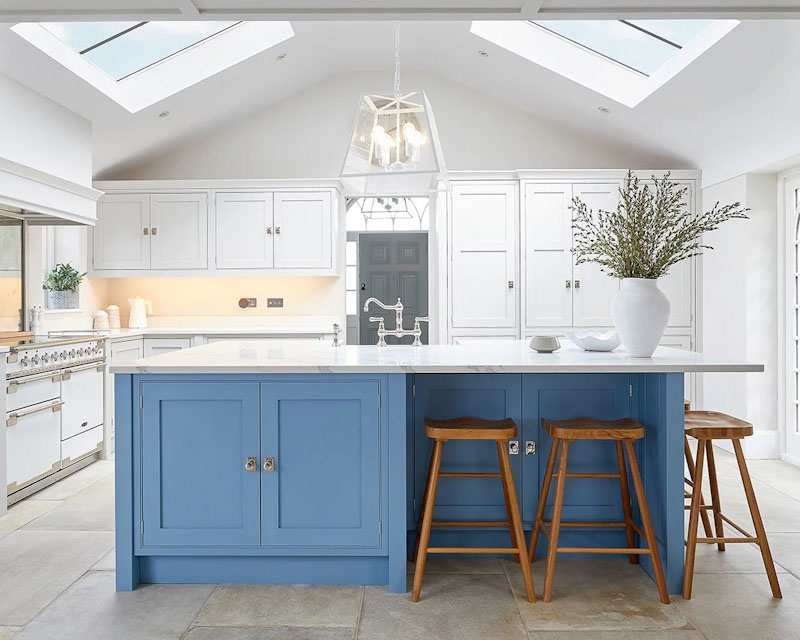 Are you looking for kitchen skylight ideas?
Roof Maker's skylight range combines stunning minimalist design with expert craftsmanship and all the practical features you need.
Our range offers:
A selection of standard and custom sizes
Skylights with a hinged opening for ventilation
Slimline frames to allow maximal light transmission
Triple-glazing for the best possible heat insulation
A choice of RAL colours to complement your existing exterior scheme
Easy clean coating as standard
A choice of tints and coatings to reduce glare and limit solar gain.
Skylights for kitchens in a pitched roof extension
If your extension has a pitched roof, take a look at our Luxlite pitched rooflight.
Skylights for kitchens in a flat roof extension
If your extension has a flat roof, you have a number of skylight options.
Fixed flat skylights
Roof Maker's fixed flat skylights are non-opening and could be perfect for spaces set away from the kitchen area.
Flat hinged-opening skylights
Our hinged-opening skylights provide both light and ventilation, which makes them an ideal choice to be positioned above the kitchen.
Slimline roof lantern
The slimline roof lantern is a stunning three-dimensional skylight that will add height and light to your space.
It's also possible to order the slimline roof lantern with an opening vent for ventilation.
We have another article on our skylight options for flat roofs if you'd like to find out more.
Get in touch
If you need expert advice, or a quotation, call the team on 0116 629 6297 or email [email protected] and we'll be happy to help.